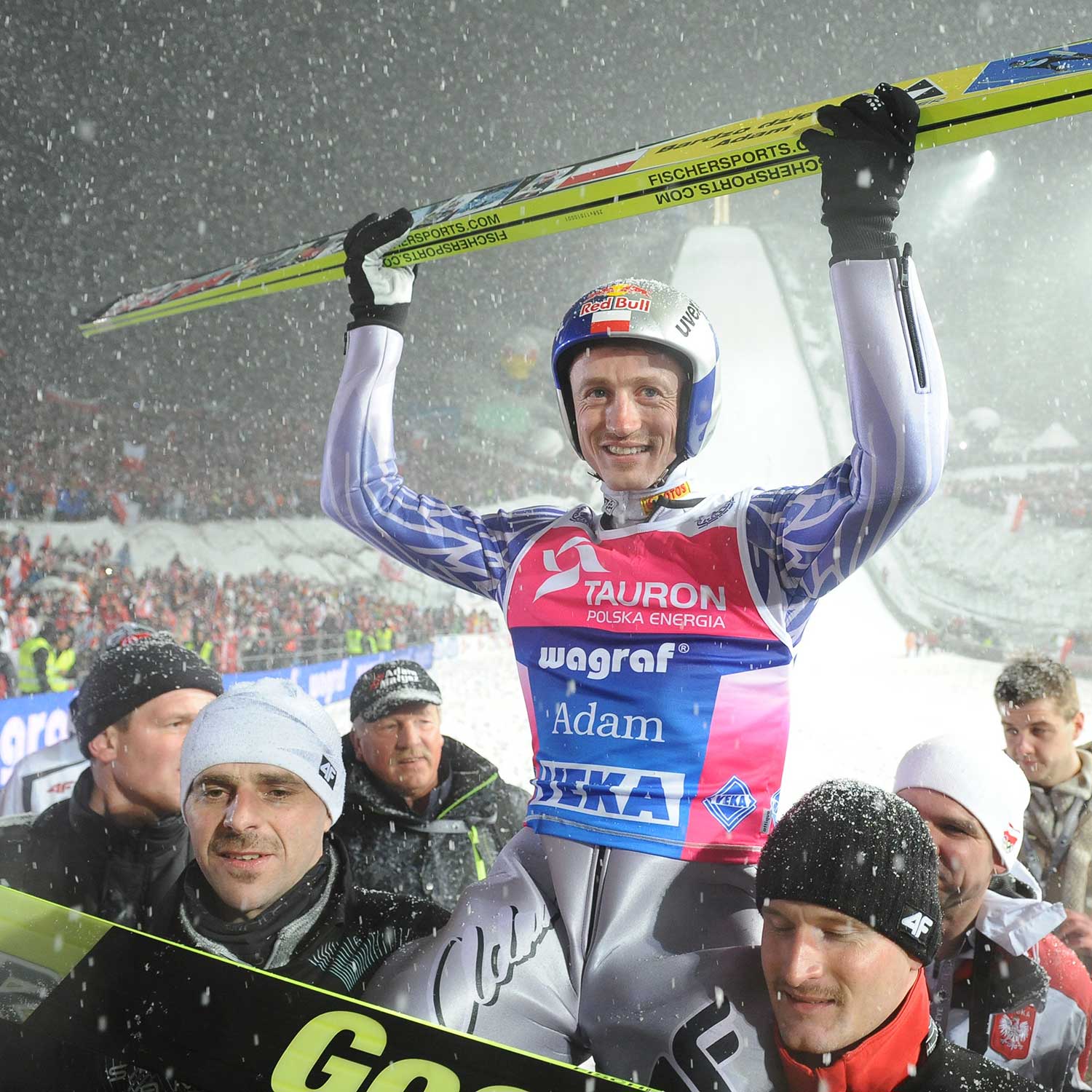 HOW TO BLOCK THE ENTIRE CITY AND RECEIVE APPLAUSE FOR IT
EVENT DESIGN & PRODUCTION
Parada Kibiców is all about celebrating, cheering, and having fun. It stands for integrating fans from all over the world, promoting the "fan culture, and culture of cheering". It also constitutes an advertisement for the FIS World Cup in Ski Jumping and Zakopane. We've created an original event during which we communicated the sponsors of the event in a broader context. The goal was to provide them with the best advertising equivalent.The agency faced two challenges: the first was to attract partners and sponsors of Parada Kibiców and to ensure the necessary formalities related to a mass event, carried out for the first time in a new format. The second, most important, was to ensure the safety of the cheering fans who have taken over the main streets of the city – close cooperation with the Police, Fire Brigade, and Emergency Medical Services.

JUMP ON THE WAVE AND GO WITH IT!

The idea of organizing Parada Kibiców was on the one hand crazy, and on the other – natural. In Poland there was a craze for Adam Małysz, and TESTA resided under Wielka Krokiew. We acquired and supported sponsors for the FIS Ski Jumping World Cup competitions, organized accompanying events, and integration trips. The stars and the media participated in our events, which were reported by the colourful press, radio, and television. Parada Kibiców constituted a complement to our offer, an additional attraction for fans and customers.
A few hours before the start of the FIS Ski Jumping World Cup competition, nearly ten thousand fans went through the streets of Zakopane. Fans of Adam Małysz, actors, musicians, athletes, and journalists drove through the city on moving music platforms. It was headed by Walter Hofer, director of the Ski Jumping World Cup.
Stars of the Polish music scene performed during the parade: Patrycja Markowska, IRA, Robert M and Puoteck. The entire thing was animated by journalists of Radio Eska.

RESULTS AS IMPRESSIVE AS ADAM'S JUMPS

The FIS Ski Jumping World Cup in Zakopane is one of the most famous and popular sporting events in Poland. Every year, tens of thousands of fans watch the event in the stands near Wielka Krokiew. Several million viewers watch the competition in front of their TV sets.
Our event accompanying the Cup involved more than 10,000 fans. It appeared in 43 television reports, in several hundred publications in local, national, colourful press, and on the Internet. Nearly three hours of coverage on national radio stations concerning Parada Kibiców. The AVE exceeded PLN 4 million!
The finale of the event consisted in all participants of the Parade entering to the stands of Wielka Krokiew. There we've received applause from nearly forty thousand fans: for the incredible emotions, great fun, and… blocking the entire city.